The ability to reseal bags after they have been opened is a great selling point to many consumers. Tin ties add this convenient feature as well as create a uniform look for each bag by allowing you to roll down the bags to form a consistent size and shape. Automatic machine application ensures that the location is standardized on each bag.
We apply your Tin Tie for you
Simply choose and order any of our side-gusseted bags starting with our 6-10oz up to 2lb size and select the color tin ties you want to use. Based on the chart on the right, we will place the tin ties on these standard locations unless you want them placed on a different spot, for instance, on the back panel. You may also choose to place the tin ties closer to the top or lower it down on the bag. When submitting custom locations, please be sure to measure the distance from the top edge of the bag to the top edge of the tin tie. This will ensure that we place the tin ties accurately. Tin ties will be attached by an automatic applicator machine making them more pr?cised than manual application (keep in mind that as for all machines, a minimal 1mm shifting can be expected). Please note that a small fee will be charged for this service. Contact your sales representative today for more details.
Standard Tin Tie Location
Gusseted bag location
| Size | Location | Tin Tie Lenght |
| --- | --- | --- |
| 4 oz | 1" | 4.75" |
| 8 oz | 1" | 4.75" |
| 8 oz square btm | 1" | 5.5" |
| 12 oz | 1" | 4.75" or 5.5" |
| 16 oz | 1" | 4.75" or 5.5" |
| 16 oz extra long | 1" | 4.75" or 5.5" |
| 16 oz square btm | 1" | 5.5" |
| 2 LB | 1.25" | 7" |
| 5 LB | 1.5" | 9.5" |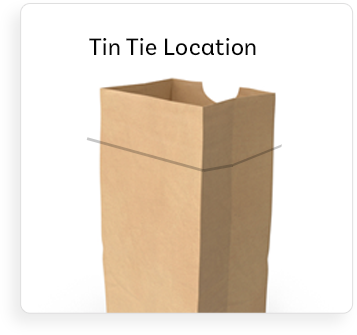 Tin Tie Benefits
To create an uniform, clean look up top
Allows end-users to re-close bag after each use
Hides the heat-sealed area for a nice presentation on the shelf
Rolling down the bag with tin ties lets customer know how much product is left and when to buy more
Secure closure makes it easy to transport bag from one location to the next
Allows customers to open bag on site to grind whole bean coffee and replace ground coffee on same bag with tin ties providing closure
Choice of 4 colors: Gold, Silver, Black and White - to match or create contrast with your bag